The Mitsubishi Chemical Group ("the Group") announced its new Group Concept, that includes Purpose, Slogan and Our Way, that will define the Group's internal and external communications beginning in February of this year.
Read More »
Mitsubishi Chemical Group Corporation (MCG) published the KAITEKI Report as an update to the progress and outlook of corporate activities aimed at realizing the Group's KAITEKI vision.
Read More »
The Mitsubishi Chemical Group has today announced that it has begun a period of consultation with its employees on Teesside on a proposal to cease methacrylates production at the Mitsubishi Chemical UK Cassel Site, Billingham.
Read More »
Completing a plant overhaul – safely and on schedule – during the pandemic
Major plant overhauls usually take place at three yearly intervals. The 2020 overhaul at our Cassel Site in the UK was brought forward by 12 months driven by the need to replace a temporary fire tube boiler that had been installed in 2018 to alleviate the risk of potential failure.
This major work, planned maintenance, replacement of significant plant equipment and the creation of major new tie-ins for additional future process improvement projects meant that this was always going to be a challenging and complex overhaul. But these challenges were of course exacerbated, in an extraordinary year, by the additional safe working precautions made necessary because of the COVID-19 pandemic.
The pandemic has been at the centre of our world since it arrived in early 2020 and has shaped the way we've adapted in order to remain safe and continue plant operations, so it was recognised from the outset that this was going to be the most difficult overhaul event that Cassel Site had ever had to deliver. With significant numbers of external contractors, additional new risk assessments, our infrastructure and a radical reappraisal of how we engage with external contract organisations was required.
Given the effect that COVID-19 had on the local population, with many companies furloughing people for many months (some even made redundant), we also wanted to find local labour to help support our local work force as much as possible during this difficult time.
The site adopted a revised strategy for the planning and execution phases of the event, using four different key contract companies to carry out work on individually allocated areas of the site. This meant that the quality of supervision and the tradespeople who came to the site were much better than previously – a big change from the 2018 event which ultimately delivered enormous benefits for SHE behaviours, productivity and resource retention.
– The purchasing of materials from both inside and outside of the UK had to be done much further in advance than ever before to ensure delivery in time for the event.
– The influx of new people onto the site meant training and on-boarding could not be done in the traditional face-to-face way. The training team on site worked incredibly hard to develop a web-based induction solution that could be completed remotely, leaving only basic on-boarding to be done when the individuals arrived on site for work.
– COVID-19 compliant welfare facilities were developed, with additional personal hygiene facilities across the site; intensive cleaning regimes; new one-way systems; screens, partitions, extra PPE; and shift patterns to minimise the number of people in cabins and the queues at peak times.
– The replacement fire tube boiler fabrication in Italy was impacted by Italy's first lockdown, so the new delivery date delayed the overhaul start date by a month. After this, a second wave of COVID-19 infections in Italy delayed final fabrication and threated the new delivery date. Close collaboration between the supplier, transport specialist and the project team allowed delivery just in time (pictured below).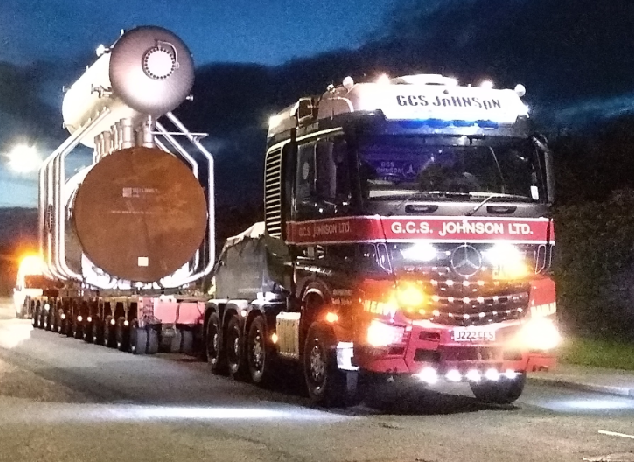 Maintaining social distancing was a major issue needing continuous management to ensure compliancy whilst completing activities and maintaining normal SHE protocols. Strong engagement with the safe-control-of-work team and detailed discussions at the permit-issuing stage meant that COVID-19 was always considered and control measures were put in place before any activities were undertaken.
Managing groups of specialist contractors, some from overseas, was challenging throughout with early engagement playing a key part. Excellent dialogue and information sharing in advance of attendance on site with higher levels of segregation and testing was deployed to ensure everyone's safety.
All of the above measures meant that the event was delivered with no work-related COVID-19 cases originating from the site.
Measuring performance
An event of this size and scale is generally measured against 4 key KPI's (Key Performance Indicators):
SHE (Safety, Health & Environment)
SHE performance at the overhaul was generally very good. Comparable, and in some cases better than 2018, with the exception of two classified injuries and one significant loss of containment that occurred on start-up. As always, detailed investigations have been conducted for all three of these incidents and key learning will be identified to provide opportunities for improvement going forward.
Quality
Approximately 4712 flanged joints were remade during the course of the event with only 15 issues associated with these joints. Torqueing and tagging of joints was implemented for the first time at this overhaul with excellent compliance in both areas. Safe fluid testing was also used, which helped to identify issues before hazardous chemicals were introduced.
Duration
Due to large amounts of emergent work on the SAR plant and extensive repairs within the esterifier vessels at the MM8 plant, the overhaul didn't achieve the Level 1 planned dates for the main plants, but the plants were online and back producing within the contingency period that had been agreed with the business, which was a fantastic performance by the team.
Costs
The cost performance for the event was excellent with the overhaul delivered within agreed budget figures, despite the large amount of emergent work encountered and the increased costs associated with management of COVID-19.
Andy Brothwood, Cassel Site's Overhaul Manager, said:
"The success of this event has again been the result of an outstanding team approach and the individual efforts and behaviours demonstrated from everyone involved, in a what was a very unfamiliar and demanding environment.
"The challenges never stop, with a very different set of dynamics for the upcoming 2021 overhaul. The 2021 event will support further replacements of key equipment to underpin the long term future of Cassel Site.
"This represents a significant investment in a challenging business period. It will be the longest event ever undertaken at the site, with it being executed over three potentially difficult winter months with unpredictable weather conditions the ongoing uncertainty around COVID-19. Irrespective of the challenges, the Cassel Site team will rise to them and deliver another successful event."